Get Your Patio or Deck Ready for Summer!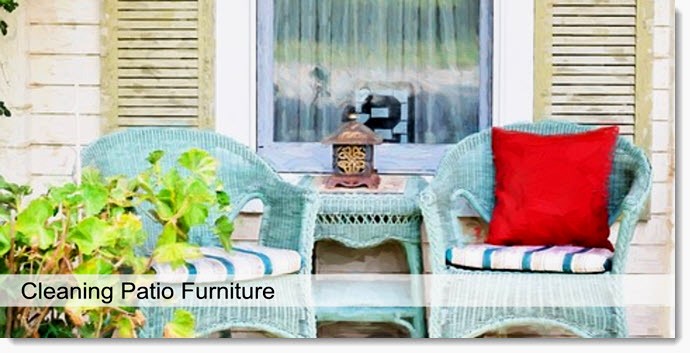 The weather is now summer-like and it is time to extend your indoor space to your patio, porch, or deck. This means that it is time to clean off the furniture after their hibernation.
In the summer, house cleaning needs to extend to the outdoors and include your patio or deck. The objective is to remove any dust and dirt that may have been deposited, on your patio furniture, over the winter. It is also important to freshen up the the items where people will sit and socialize. If any organizims were also hibernating, on your furniture, over the winter then you will want to remove them before they start to populate in the warmer outdoor summer air.
You can use a natural and inexpensive cleaning soution to remove and dirt and grim from winter storage. The cleaning solution we suggest will also achieve a fresh clean smell. This solution will also act as a disinfectant. Here is what you will need.
Ingedients:
Spray Bottle
White Vinegar
Lemon
Cutting Board
Knife
Soft Cloths
Instructions:
Making natural cleaning products is your first step to cleaning and refreshing your outdoor furniture. A vinegar mixture is the way to go for an effective and low cost natural cleaning solution.
Fill a spray bottle three-fourths full with warm water. Add white vinegar almost to the top and and you have your very own natural furniture cleaner.
Slice a fresh lemon into pieces. Ensure the pieces are large enough to not clog the spray nozzle. Squeeze the fresh lemon juice into the vinegar mixture. Then, push the lemon pieces into the spray bottle. The lemon juice will help the cleaning and disinfectant process as the acid in lemons is antibacterial and antiseptic. Lemon will also provide a nice fresh smell. Finally, the lemon oils in the rind will help to clean and shine.
Set the spray top in plance and swish the solution to mix it. If you let it sit for a few days before use then the mixing will be even better. Now you're ready to start cleaning your outdoor furniture and freshening it up for outdoor socializing and entertaining.
Spray all wood, metal, plastic, wicker, and wrought iron furniture with the solution. Use a cleaning cloth to wipe away dirt and stains. The lemon juice helps remove sticky residue, such as tree sap that may not have been cleaned well before being stored for the winter. Furthermore, you can use this excellent cleaning mixture as a way to clean your patio furniture before storing it for the winter.
Use the cleanser to freshen fabric chair and lounge seat covers. Spray the solution on the fabric and wipe it off. The vinegar and lemon solution sanitizes the surface.
As soon as the cleanser dries, the vinegar odor will go away. Therefore, there is no need to rinse the furniture with water.
Above all, if you need some extra help to clean or freshen your patio or deck then feel free to ask. Give us a call at 802-295-6065. A Clean Vision has been cleaning homes in the Upper Valley since 1993. We are family owned and operated and take great pride in keeping your home clean and this sometimes means extending the cleaning outdoors to your patio, porch or deck.