Cleaning Services, From Domestic Cleaning to Event Cleaning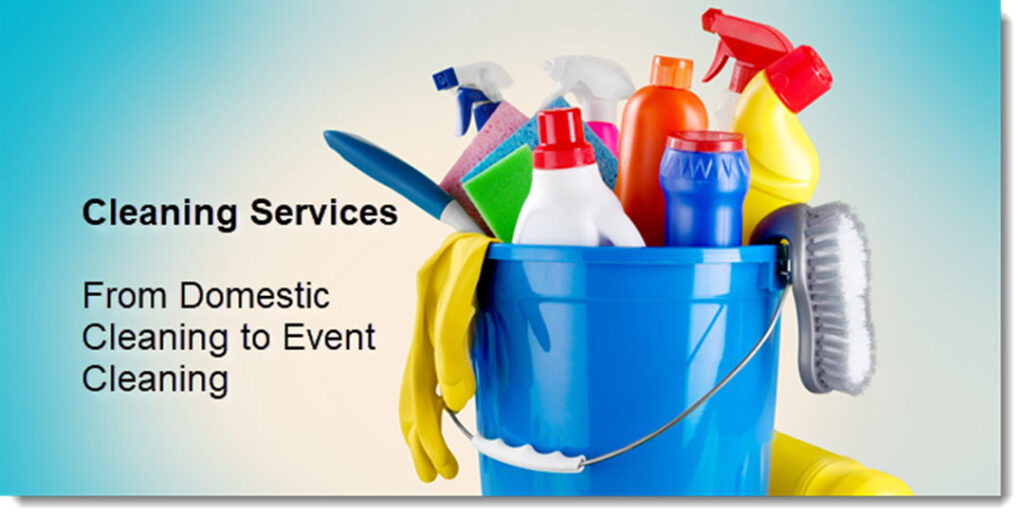 ‍Homeowners and business owners realize the need to keep things organized and clean. There are many benefits to having a clean home and a clean and well-organized office or place of business. It helps productivity, whether at home or work.
If you live and work in Lebanon, NH, Upper Valley, you know how fortunate we are to be in a wonderfully attractive area. We need to extend this attractive appearance to both our homes and businesses. This is good for our community as it enhances living in the Upper Valley area.
In this article, we will delve into distinct types of cleaning services that can be applied to home or work cleaning situations.
Domestic Cleaning
Domestic cleaning, also known as house cleaning or household cleaning, significantly eases the burden of routine house chores for homeowners. This service type is broad in scope, covering the cleaning of various areas within a home, such as the living room, kitchen, bedroom, bathroom, and other spaces.
Many homeowners in the Lebanon, NH, area highly value this cleaning support. It is a fundamental service that A Clean Vision provides, and we have been cleaning homes in the Upper Valley since 1993. We have the experience and the reputation as a top provider of home cleaning services.
Commercial Cleaning
Commercial cleaning—which may also be referred to as office cleaning—is important for all businesses. Clients expect your place of business to be clean and organized. A messy business translates into lost business.
This service involves cleaning commercial buildings, schools, shops, and other workspaces.
Commercial cleaning is more structured than residential services, as the cleaning requirements for commercial spaces tend to be more uniform. The service usually encompasses cleaning work areas, cubicles, cabins, desks, canteens or cafeterias, restrooms, and receptions.
Janitorial Cleaning
Often confused with general office cleaning, janitor cleaning focuses on regularly maintaining office spaces, industrial sites, and other organizations. Unlike commercial cleaning—which may not be needed as frequently—janitor cleaning ensures daily upkeep of premises, making it a highly demanded service in the commercial and industrial sectors.
Frequency-based Cleaning Services
Cleaning services can also be categorized based on frequency. Here's a closer look at the various types of frequency-based services:
One-Time Service
This is a flexible service that accommodates any specific cleaning requirement our clients may have. It could be a once-a-year deep cleaning service, a move-in or move-out service, or any other specific cleaning need.
Weekly Service
In this arrangement, cleaning services are provided once every week on a day and at a time preferred by the client.
Bi-Weekly Service
This service involves cleaning twice a week. It is especially popular for regular household cleaning as it helps maintain a consistent level of cleanliness.
Monthly Service
As the name suggests, this service involves cleaning once a month. It could involve deep cleaning, regular cleaning, or any other specialized cleaning based on your requirements.
Ceiling and Wall Cleaning
A client can select ceiling and wall cleaning as a separate, specialized service. This service involves the removal of dirt, grease, and stains, which can enhance lighting and ventilation within a space.
It may involve the cleaning of hard-to-reach places such as cathedral ceilings or high walls.
Carpet Cleaning
Carpet cleaning is a complex and time-intensive service that involves cleaning, washing, steam washing, stain removal, and odor removal. Some clients strongly desire to maintain their carpets at a high level.
Regular carpet cleaning helps to keep your carpets looking great and also increases the longevity of your carpets.
Disaster Cleaning and Restoration
Disaster cleaning and restoration is a sensitive and complex service that requires highly skilled professionals. It involves cleaning up disaster-stricken sites and restoring them. This service is challenging. If A Clean Vision cannot do all that is required, then we can make a recommendation to an Upper Valley area cleaning and restoration service.
However, if you need some help cleaning up after a water leak, we may be just the support you need.
Chimney Sweeping
A Clean Vision does not offer a chimney sweeping service, but we will help by making a referral if you need one. Chimney sweeping involves the removal of debris, ashes, dirt, and other harmful components from chimneys. This service helps to keep your home safe from chimney fires and soot from the chimney from getting back into your home.
Conclusion – Cleaning Services Lebanon NH
Cleaning requires both proper planning and management. A Clean Vision can help define your cleaning options and help you make the best decision for you or your business.
Productivity in the home or office is important, and A Clean Vision can help if you have a home or business in the Lebanon, New Hampshire / Upper Valley Area.
Call us at 802-295-6065 if you live in the Upper Valley and need extra support to keep your home clean and tidy. We have provided homeowners of the Upper Valley with top-notch home cleaning services since 1993.
---
Other Blog Posts
You may also be interested in this post: