7 Tips to Clean Your House Like a Professional House Cleaning Service
Like anything else, cleaning requires a certain amount of skill to be done right. Professional home cleaners need to do things right (to achieve happy clients) and right the first time (to maximize profits). A Professional home cleaning service needs to produce results that:
Delight Clients
Create Referrals
Make a Profit
A haphazard approach to home cleaning will not produce the desired results. That is why a professional home cleaning service is anything but haphazard.
Here is a list of seven tips professional house cleaners use to get homes looking pristine from top to bottom. The next time you clean your home, use these seven home cleaning tips to make your home shine and do it efficiently.
Clean Using A Pattern
When cleaning any surface, use a pattern that helps you ensure you have cleaned the entire surface so you don't waste time having to go back and hit spots you missed on the first pass.
Professional home cleaners go from left to right and top to bottom to ensure they do the job right the first time.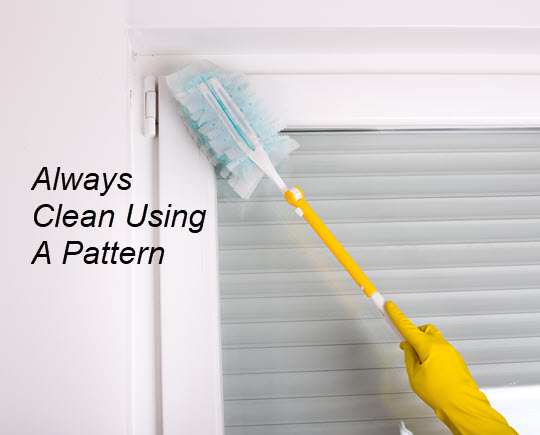 Apply Cleaning Products and Give Them Time To Work
Apply the cleaning products and then give them time to work. Cleaning products work instantaneously. They need to disinfect and break down dirt and grime.
Leaving them on for a few minutes gives them time to do the work. This translates into a more efficient and more effective cleaning process.
Giving your cleaning products time to work means you have less work.
Clean Your Ceilings And Walls
As noted above, always work from top to bottom, just like professional home cleaners do. Dust your ceilings and wipe down your walls. Be sure to clean the corners. A microfiber mop works is a great cleaning tool for this. We recommend making this purchase if you do not have one.
Clean your ceilings and walls regularly to prevent dust from collecting. Your home will be cleaner, and you will spend less time with a vacuum, mop, or furniture duster to clean lower surfaces such as shelves and the floor.
Don't Forget Your Baseboards
It doesn't matter how sparkling clean the rest of your house is—if your baseboards are dirty. Dirty baseboards make your house look dirty.
If it's been a while since you've cleaned them, you might need to use a damp microfiber mop; otherwise, they can simply be vacuumed clean.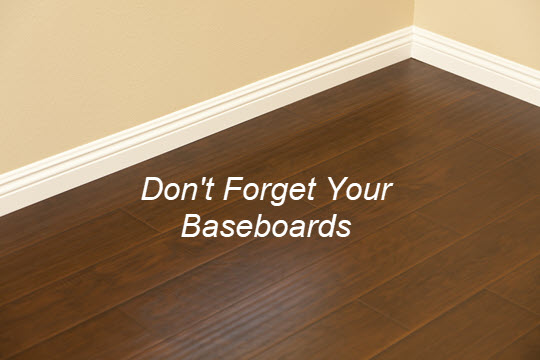 Declutter, Then Clean
Before you start cleaning any area or room, put away anything that isn't where it belongs. Always declutter first and then start cleaning. Do not clean while you declutter. Doing both things simultaneously will make the cleaning less effective, making your process less efficient.
Clear Off Surfaces
It will save you a lot of time if you take everything off a surface and put it all back at once rather than picking up each item, cleaning underneath it, and then putting it down. If you're dusting, take everything off a table or shelf before you clean, then give each item a quick rub with a microfiber cloth before you put it back.
Remove the soap, shampoo, and other items from the shower before cleaning. This is a form of decluttering first before cleaning.
Use A Cleaning Cloth
You cannot beat the look of a hand-washed floor with a mop. However, getting down on your knees and washing all the floors in your house this way is neither realistic nor practical.
The bathroom is a room where you can realistically hand-wash the floors. Cleaning your bathroom floors with a cleaning cloth shouldn't take long since the surface is not very big. Cleaning your bathroom floor with a cloth is the best way to ensure you get all those tight areas behind the toilet or on the sides of the sink.
Hand washing your bathroom floors is the best way to get them spotless.
These seven home cleaning tips will help you clean your home like a professional home cleaning service. A Clean Vision is a professional home cleaning service, and we have been serving the Upper Valley since 1993. If you need extra help, call us at 802-295-6065 if you live in the Upper Valley.