Eight Habits of People Who Always Have a Clean Home
Simple and Straight-Forward Home Cleaning Habits
Eight Habits of People Who Always Have a Clean Home
Contents
Make Your Bed When You Get Up
Tidy Up as You Go
Wipe Down Surfaces
Tackle Laundry Once A Week
Categorize Paper
Donate Regularly
Clean Your Fridge Every Month
Clean Up After Cooking
Most of us don't enjoy cleaning, but everyone loves coming home to a clean house. Though Mama's standards of a tidy home may have involved hours dedicated to deep cleaning, today's tidiest of families have found ways to incorporate little habits into their daily lives that make it less of a chore. So, what's the secret to keeping things clean? Consider adding these daily home cleaning habits into your schedule, and you'll confidently let friends through your front door without notice before you know it.
Make Your Bed
I am reminded when I reflect on this home cleaning habit of the book "Make Your Bed" Little Things That Can Change Your Life – written by Admiral William H. McRaven that became a New Your Times bestseller.
This timeless book provides simple wisdom, practical advice, and words of encouragement that will inspire readers to achieve more with their lives. One of the basic concepts is that if you want to achieve more in your life, you can start by making your bed.
The book is filled with intelligent and succinct ideas beyond the basic concept of starting your day by making your bed.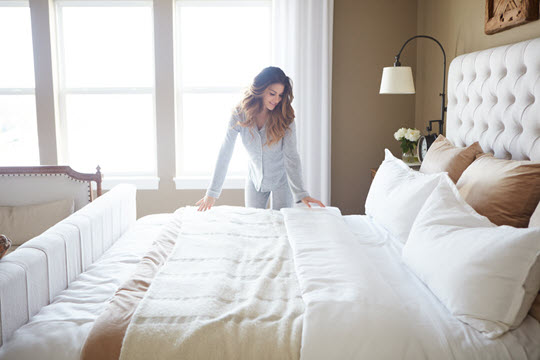 We all need inspiration and motivation; this book contains many motivational ideas.
If there's one thing you can control in the day's chaos that lies ahead, it's your bed. It only takes a few minutes, but starting the day by making the bed is an easy task that sets your day up for success. Get into this simple habit, as it will help you achieve an organized life and a clean home.
Make Your Bed
Tidy Up as You Go
Did you try on two or three outfits before picking your outfit? Use a few pans to prepare breakfast. Please clean it up and put it all away before you move on. If you incorporate this easy-to-do clean-home habit, you will be well on your way to maintaining a clean and tidy home.
Wipe Down Surfaces
Wiping down surfaces is yet another easy clean-home habit. Consider how easy it is to wipe down surfaces after using them.
With this habit, you will keep your counters and glass surfaces clean and ready to go. This habit can take the form of wiping down your glass shower door to running a towel around your sink after washing the dishes.
Tackle Laundry Every Week
Use a hamper daily but do not let your hamper overflow with clothes. If you tackle doing the laundry once a week, you will not have to deal with a pile of dirty laundry. Doing laundry is necessary, but it does not have to be daunting and a task you always want to avoid.
Do your laundry on a consistent weekly basis, and it won't pile up and monopolize a big chunk of your time.
Categorize Paper
Mail, bills, notes from school, takeout menus—paper piles up quickly. Keep your counters and office clutter-free by establishing designated places for paper in your home. Make a drawer for takeout menus and coupons. Create folders for bills, school memos, and other essential printouts. Put these items in their place as soon as you get them.
If you let the paper pile up, you will always feel disorganized (because you are disorganized). Once you organize your paper, it will be much easier to maintain the organization of your paper.
Donate Regularly
Too much stuff will always work against you as you strive for a clean and organized home. What about clothes you no longer wear? How about clothes your little human has outgrown but are still in good shape? Treasure items with significance and meaning, but don't maintain and collect unnecessary stuff.
Instead of wasting time trying to find spots for things you don't need, take a moment, and think about what you may be able to donate to someone in need. Your purging of stuff you don't need will help you and the person receiving the donation. To donate and keep your home tidier is a real win-win!
Clean Your Fridge Monthly
Spills happen. The key is to clean them up. Cleaning your refrigerator serves two essential purposes.
Cleaning your fridge will make it look clean and organized, which always is a good thing and
Cleaning your refrigerator will help you to be more organized when you go grocery shopping. Have you ever picked up something you thought you needed only to discover the same item at the back of your refrigerator? I know it can happen.
Here are the steps for cleaning your fridge.
Remove shelves and crisper drawers. Wash them thoroughly with hot water and detergent (dish soap). All items can then be rinsed with a sanitizing solution, which can be made by mixing one tablespoon of unscented, liquid chlorine bleach in a gallon of water.
The interior walls of your refrigerator, including the door and gasket (door seal), can be washed with hot water and baking soda. Then rinse everything with the same sanitizing solution as above.
Finally, leave the door open for about 15 minutes to allow air to circulate within your refrigerator.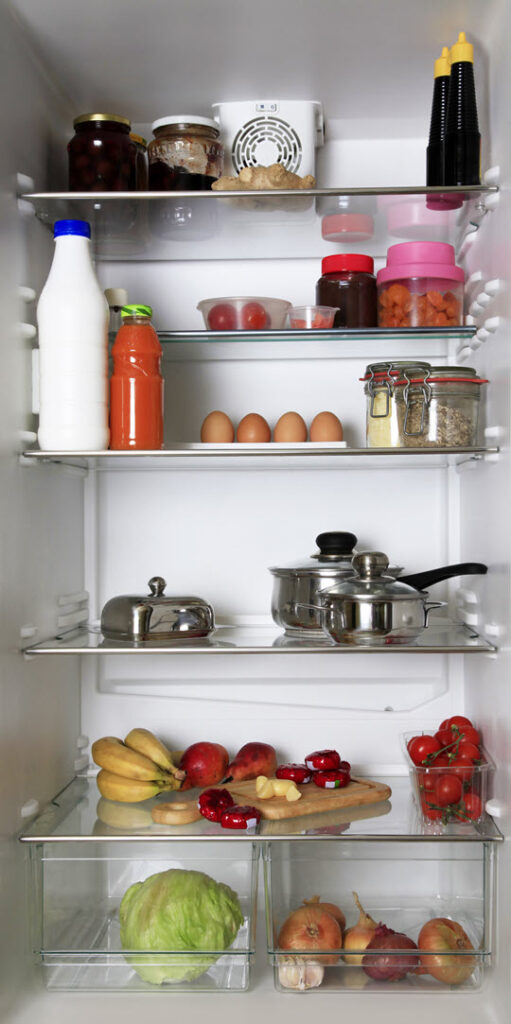 Clean Up After Cooking
Resist the urge to turn on the TV and melt into your couch after dinner. The longer you let your pots and pans linger, the harder they'll be to clean. We know it's been a long day, but if you quickly rinse your dishes and load the dishwasher right after eating, the sink will be clear, and your relaxation time will be even better.
Start incorporating these eight clean home habits into your schedule bit by bit, and you'll build your way to having a tidy home that will always make you feel and perform better.
---
Here are some other home cleaning-related blog posts from A Clean Vision that you may find valuable.
Is being Messy and Disorganized Just A Bad Habit?
The Seven Habits of Highly Effective Home Cleaning
Habit Number One – Be Proactive
---
These eight habits (if implemented) will help to keep your home tidy and organized. However, if you need extra help, call us at 802-295-6065 if you live in the Upper Valley and need extra support for keeping your home clean and tidy. We have provided homeowners of the Upper Valley with top-notch home cleaning services since 1993.