When kids do their schoolwork in open living areas, where do you stash the books and supplies? Make it easier for your little humans to do their studies at home and keep their work area tidy and organized.
Is it any wonder that kids' schoolwork seems to get done more often on a comfy sofa or at a bustling kitchen island than in a dedicated hidden-away study space? Being closer to the action of the household means it's easier to ask questions and get help. This is certainly a good thing. But without a clearly defined place to set up books, notes, and school supplies a home study place can easily become a chaotic mess. If your house has a homework problem, read on to get ideas on how to help your children study at home and keep it tidy too.
The dining table can be a great place for spreading out big projects — but such a big surface also can mean a bigger mess. A slim bookcase or a low cabinet with deep drawers make for easy cleanup when it's time for dinner. Schoolbooks can simply be shelved and papers stashed in a drawer.
This bookcase, by Carson, is narrow and deep enough to store regular school study items.
Dimensions (Overall): 72 inches (H) x 18 inches (W) x 13.6 inches (D)
Kitchen Study Ideas
The kitchen table can be a great place to do schoolwork. Consider clearing out a kitchen drawer and fitting it with removable drawer organizers. Fill the organizers with homework supplies. Your student can tote the organizers to the table as needed.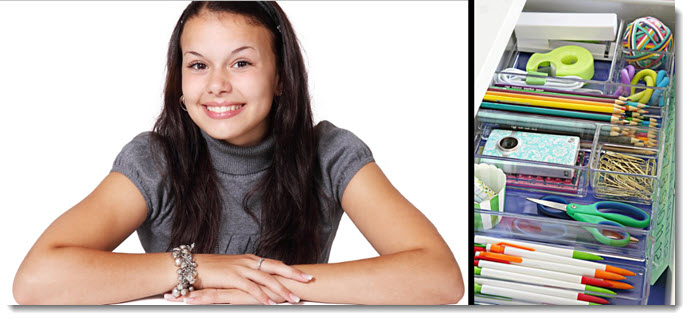 If you need more room, consider clearing out one entire upper or lower cabinet. Outfit it with a combination of magazine files, document storage boxes, and desktop organizers. This is a good option for older kids who need to keep work for multiple subjects organized.
Are you planning to remodel your kitchen? Incorporate space for doing homework. Consider a kitchen island design that has storage built into it, a pull-out shelf, and even an electrical outlet.
Bolanburg Counter Kitchen Table
If you never know where your kids are going to do their homework, a rolling cart stocked with school supplies can offer flexibility. Roll it right where it's needed, and wheel it into another room or closet when you want to hide everything.
Another smart kitchen remodeling move is to add banquette seating with hidden storage for stashing books and supplies. Storage compartments accessible from the side or front are more practical than a seat that lifts. There should be no need for someone to clear the bench to get supplies.
Bookshelf Bins
A bookcase in the living room, dining room or hallway can hold textbooks, as well as bulkier project materials in baskets or bins. You can also use the top of a bookcase or kitchen cabinet to stash large in-progress projects that need to be temporarily cleared off the table.
Back-of-Door Homework Holder
Wherever your kids do their homework, it's important to have a dedicated spot for collecting any papers and materials that need to make their way back to school. One sneaky option is to attach a few sturdy hooks and baskets to the back of a hall closet door — backpacks can be hung up top, homework and library books below.
Kitchen Island Workstation or Desk
A desk has the advantage of not needing to be cleared mid project when dinner is ready. Some households cannot dedicate a room to be a home office. This may also be the case for you. If you would prefer a desk but without the isolation (and space commitment) of a dedicated office, consider adding a workstation to the kitchen.
Here is an example of a kitchen island pull-out desk by Donny Osmond (Yes, that Donny Osmond!).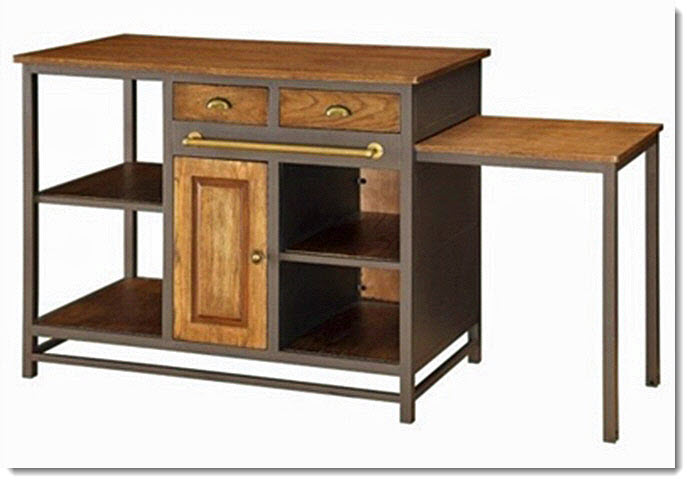 This kitchen island has storage options as well. A kitchen island can be a place for children to do their homework. An island with storage will help to make it easy to clean up when they are finished.
A Clean Vision has been helping people of the Upper Valley to have a wonderfully clean home. If you would like us to help with a regular home cleaning then give us a call at (802) 295-6065.
You may also enjoy this post: The Home Office