Dishwashing Tips
Cleaning Your Kitchen
To have a clean and tidy kitchen – a place where most people spend a great deal of time – it is essential to clean your dishes, pots, and pans.
Most of us do not like this chore. However, there's really no way around dishwashing – after all, we must eat. Moreover, if you love to cook, as I do, then cleaning up is part of the cooking.
Here are some dishwashing cleaning tips to help you make this task run a lot smoother, and maybe even a little faster.
Start the Right Way
Tackling dirty dishes after dinner isn't a chore most of us enjoy. This becomes even more of a nuisance if the dishwasher is still full. You have to empty the dishwasher before you even get started. It is so much easier to tackle a sink full of dirty dishes when the dishwasher is already empty.
Get A Head Start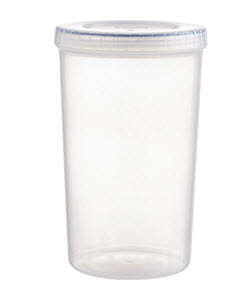 As you prepare the meal there are things you can do to get a jump start on the post-meal cleaning. A mixing bowl can be quickly cleaned and put in the drying rack rather than putting it in the sink. Some prep utensils can be rinsed and placed in the dishwasher after they have been used.
Another tip is to keep a deep container of soapy water next to the sink like the one on the right. As you finish with a utensil simply drop it into the container. By soaking these utensils your clean-up will be much easier. This method also prevents utensils from cluttering the bottom of the sink.
Save Water
Don't feel guilty about running your dishwasher. Dishwashers make cleanup a lot easier and you will use less water than if you were washing by hand. This is especially true if you have a modern dishwasher.
Clear the Sink
Any chance you have, do a quick rinse of an item and then place it in the dishwasher. This will keep your counter and sink clear and will lower the number of items needing attention in one big effort.
Dishwasher Yes/No
Dishwashers are a kitchen luxury that makes cleanup a much faster and easier task. But a dishwasher is not a catchall for all your tools and dinnerware. Some of your pots, pans, and serving ware should always be washed by hand.
Be careful with delicate items (wash by hand) and with very big items that may hinder the ability of the dishwasher to clean all items.
Dishwasher TLC
Running load after load of dirty plates and bowls can take its toll on a dishwasher. To keep it working well, it needs a little TLC occasionally. Be sure to regularly clean the dishwasher trap and seals, and run an empty load with a cup of vinegar every other month.
Pot Scrubbing
Today, we have many pots and pans that should not be scrubbed too hard. We do not want to scratch their surfaces. You sometimes, however, need something more than a soft sponge to get a pot clean.

Here is a scrubbing pad that will help you to get the pot-scrubbing job done.
I've used these scrubs on non-stick pans, cast-iron skillets (without soap!), enamel-coated dishes, and regular stainless steel pots. They've never left scratches and seem to work equally well on all surfaces.
Amazon carries these pads and here is a link – Pot and Pan Scrubbing Pads
While A Clean Vision does not typically clean the dishes when we clean a home we will be happy to do the deep-down cleaning such as vacuuming and scrubbing the floor, cleaning all surfaces and cleaning the cooktop.
Give us a call at 802-295-6065. We will be glad to come by and provide you with a quote to keep your entire home clean and tidy.