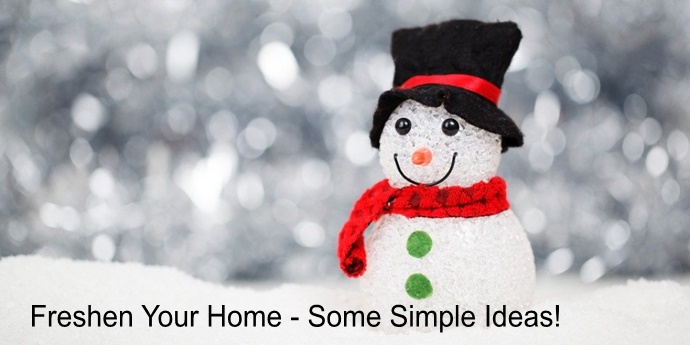 Sometimes you and your home can benefit from some straight-forward freshening. It lifts your spirit and can inject some energy into your life. This can be done at any time of the year. Just because a selected an image of a happy snowman for this post you don't need to think about this only in the winter.
Your home is your own special place. You control the way it looks and feels. Freshen it up. Add some excitement! Brighten the interior with some simple and easy-to-implement ideas.
Here are a few ideas.
Freshen with Flowers
Make it feel like spring inside no matter what it is doing outside! Fresh cut flowers instantly brighten your home, making it colorful and inviting. It is an easy way to introduce trendy colors that you don't have to commit to forever. You can change them out weekly to keep your look fresh.
Not the flowery type? For the same effect, add color with a bowl of fruit.
Consider Aromatherapy
Aromatherapy uses aromatic essential oils to improve the health of the body, mind, and spirit. Some people also refer to aromatherapy as essential oil therapy. Breathing in the scent of essential oils activates the brain's limbic system, which, among other functions, controls your emotions. You can apply essential oils using tools such as an aromatherapy lamp, nebulizer or diffuser, or by simply diluting the oil in a room spritzer solution.
The smell of your home will have a direct impact on your feelings of whether your home is fresh, clean and invigorating.
Brighten Up A Room With Pillows!
Throw pillows are inexpensive and easy to change out. You can refashion the entire color scheme of a room with just a few throw pillows. Remember, it is just an accent, so don't be afraid of color!
Accent your Bathroom with Towels
Just like adding pillows to your living room, you can brighten up your bathroom with towels. For a fresh look, choose something light and bright. Anything from white to vibrant yellow will do! Not only will your bathroom look great but you will feel great using them.
Declutter your Living Space
Though this one seems obvious, many people can get stuck in a rut and leave items lying around (that's clutter) that are frequently used. As for me, I do not even realize it looks cluttered until I have company over. When I remove the "clutter" I always feel better. I am often impressed by the mood change transformation. It just feels good!
Kitchens are especially susceptible to overlooked clutter. What do you have sitting on your counter? A toaster, coffee maker, microwave, juicer, mixer, cutting board (perhaps even the mail)? Put it away, clear your surfaces, and your home will look refreshed and you will feel refreshed.
Freshen Up Your Home
If you are going to have a party or just a simple get-together with some friends it is also a good idea to freshen up your home.
Here is a downloadable 7-Day Cleaning Guide to help you plan the pre-event cleaning and tidying of your home.
Home Cleaning Service
If you need some help with the cleaning of your home counts on us. A Clean Vision has been serving homeowners with our home cleaning service of the Upper Valley since 1993.