Home Fragrance Ideas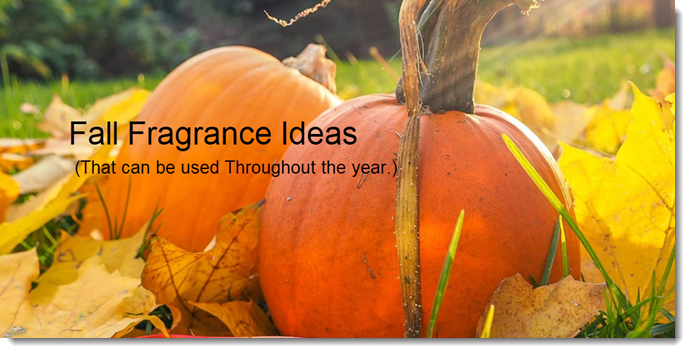 Here are some home fragrance ideas that really can be used throughout the year but that many people do associate with autumn.
The fall is wonderful time of year. The air smells fresh and clean. The grocery stores and coffee shops are emphasizing pumpkin-flavored items The days are becoming chilly. To add to the joy of the season many people like to surround themselves with comforting fall fragrances that can also add a bit of warmth to your home.
Of course, many people enjoy these scents so much that they can be used throughout the year.
The quickest way to make your home smell a particular way is to buy candles. This approach is tried and true. However, here are some ideas that you can apply anytime, may be more fun, and more economical too. You can sip a pumpkin and spice flavored latte and create your own pleasing scents for the fall or use them any time of the year. Here are three scents that will make your home smell wonderful and that people will notice and enjoy.
Home Scent #1: Cinnamon Pinecones
Approximate time: 30 minutes of actual work and 24 hours until useable
Scented pinecones not only fill your home with fall fragrances, they add the look of autumn too. Plus, they're really easy to make.
What you'll need:
• Open pinecones (You can find them in your local craft store or perhaps your own backyard.)
• Cinnamon essential oil
• Water
• A spray bottle
• Plastic grocery bags or bin liners
Directions:
Mix water and three to five drops of cinnamon essential oil in a spray bottle. After mixing the oil with water, sniff it to see if the fragrance is strong enough for your taste. If not, add more oil. Spray pinecones with the water and oil mixture. Seal the pinecones in a plastic bag for at least 24 hours to let the cinnamon oil soak into the cones. Take the cinnamon-scented pinecones out of the bag and arrange them in a decorative bowl.
Home Scent #2: Apple Simmer Pot
Approximate time: 30 minutes
If your favorite fall fragrances involve apples, you might enjoy this simmer pot so much that you forget fall candles even exist.
What you'll need:
• Slow cooker or saucepan
• One apple
• Two tablespoons dried chamomile
• Two to four cinnamon sticks
• One tablespoon of vanilla
• One tablespoon of almond extract
• Two cups of warm water
Directions:
After slicing the apple, combine all the ingredients in a small slow cooker or saucepan. Set the cooker or burner to low, and wait for the smell of apples to waft through your home. Note: Make sure you keep an eye on this concoction because the liquid evaporates over time. You do not want it to evaporate completely. To keep your fragrance going by adding some water every 30 minutes or so.
Fall Scent #3: Pumpkin-Scented Candle Warmer
Approximate time: 5 minutes
Without a doubt, pumpkin is the star of autumn whether it comes to flavors or fragrances. The following recipe can have your house smelling like you've just pulled a pumpkin pie straight from the oven.
What you'll need:
• A simple essential oil diffuser or wax burner
• Three tablespoons of coconut oil
• Three teaspoons of pumpkin pie spice
• One-half teaspoon of cinnamon
Directions:
Combine the coconut oil and the pumpkin pie spice. Add the cinnamon and blend the ingredients until they're well mixed. Pour some of the solution in the dish of your wax burner or oil diffuser. Now sit back and enjoy your own little slice of pumpkin-scented heaven.
When your home smells clean and fresh it will seem to be more clean and fresh. It will be more enjoyable. These home fragrance ideas are associated with autumn but can certainly be used throughout the year.
If you need some help with the cleaning of your home counts on us. A Clean Vision has been serving homeowners of the Upper Valley since 1993.
Here is an article on how a scent can affect a person's mood and performance. It was published at ScientificAmerican.com. The impact a scent has on us is based on associative learning.